Pyro Pete The Invincible
Pyro Pete

Vital statistics

Position
Raid boss
Age
unknown
Status
Active

Physical attributes

Height
Unknown
Weight
Unknown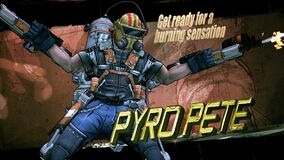 Pyro Pete the Invincible AKA Pyro Pete is a Raid Boss featured in Borderlands 2, He is also needed to be killed in the mission Pyro Pete the Invincible (mission). A very good strategy is to use the Sniper Rifle the Tresspasser. Near the corners there are two pipes. Get between them and use the Tresspasser to snipe Pete's helmet off. Continue doing damage until he jumps up to join you. If he lands up there, jump down he will be stuck. He now cant do any damage to you normally. However his aura attack can still hurt you, try to crouch when he charges it up.
Ad blocker interference detected!
Wikia is a free-to-use site that makes money from advertising. We have a modified experience for viewers using ad blockers

Wikia is not accessible if you've made further modifications. Remove the custom ad blocker rule(s) and the page will load as expected.